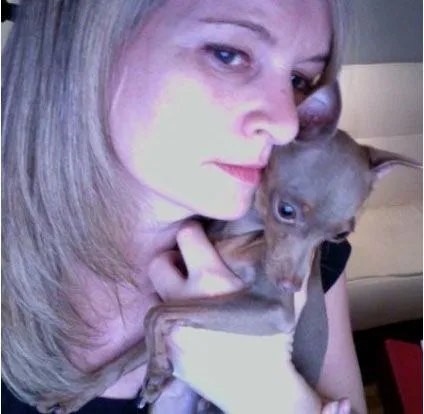 Hope & Joaquin
Hope Garlick
Hope Garlick is a Certified Pet Dog Trainer and a professional member of the Association of Pet Dog Trainers (APDT) an organization of individual dog trainers who are committed to becoming better trainers through education worldwide. She is also trained in pet CPR.
Hope has trained many different kinds of dogs (and owners!) including shelter dogs, dogs with fear and anxiety issues; she has volunteered at Sean Casey's animal rescue, North Shore Animal League and was an apprentice at Biscuits & Bath doggy gym trainers program. In addition Hope was an assistant trainer with Semper Fido dog training in Parkslope Brooklyn. She volunteers her professional services to rescues such as yorkie911rescue training and aiding pet parents in acclimating there new adopted dogs into their new homes. She also volunteers two of her 7 dogs at Dogabiltity Center as therapy dogs for children with Autism, Disabilites & Seniors.
Animals have been an integral part of her life since childhood and she has had several breed of dogs throughout her life. Currently she has seven young dogs of her own in training and believes in the best quality of life can be obtained through education and training for dogs and owners alike.
After obtaining her training certification from Animal Behavioral College she continued to train client's dogs part-time while also working full time in technology, after some time Hope left her full time career in technology to work full time as a positive and reward based trainer. This was no easy task considering the love for technology, the love, passion and commitment to educating owners and dogs was obviously the stronger calling. She continues to educate herself in dog communication and is also a graduate of Pat Millers Peaceable Paws Academy.
Hope's approach to training is not only positive but has a humane and very personalized element to it, listening closely to clients and pet needs to not only accomplish training but giving owners the tools they need to communicate and live in harmony with their pets for their life style. In her opinion there is no one model to personalize training each and every family and dog needs to be assessed in order to develop the appropriate treatment plan for the specific family, the methods used by her are without force or dominance and are science based.
Hope has developed a specialty in puppies, small and fearful dogs, understanding their body language and reprogramming their brains that the world is a good place. This method takes time as each dog moves at its own pace and recognizing when the dog can move to the next step; it's all about Love & Kindness and taking the time to reach the heart and soul of each and every dog when working with them.
Hope also has opened her own in-home pet boarding at her home in a dedicated space for tiny dogs, who normally go overlooked at a traditional dog boarding facility. She believes, since they are extra small they enjoy being with other dogs there size and after hundreds of hours observing them, it has been very clear in their communication and body language that they do.